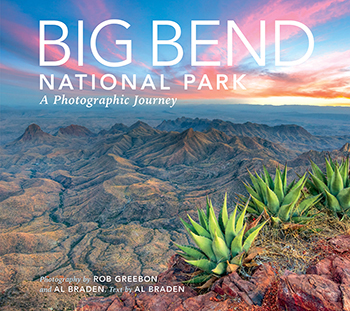 So exciting to have be part of a book project on my favorite place to experience the wonders of the outdoors. Joining with fellow Texas photographer Rob Greebon, we team up on a photographic journey of Big Bend National Park – the raw beauty of far west Texas.
It's a celebration of the space and wonder of the park, spanning high Chisos Peaks and distant vistas to the canyons and flood plains of the Rio Grande/Rio Bravo del Norte. Over 800,000 acres for hiking and exploring, geography is in plain view including intricate and colorful folds of ancient limestone to dramatic volcanic vents. See the beauty of the big Bend through the eyes of two hikers who love the desert life and it's both expansive panoramas and intimate flora and fauna adapted so well for this special place.  Farcountry Press, 80 pages, 104 color photos, $14.95.
Available immediately from Amazon and other booksellers throughout the region.